Cycling: President Pierre Nkurunziza pedals off Tour du Burundi
Burundi President Pierre Nkurunziza on Tuesday flagged off the country's annual cycling event Tour du Burundi. Nkurunziza himself took part in the first few kilometres of the race which attracted over 30 professional cyclists and 50 enthusiasts.
Cyclists pedaled off at the capital of Burundi's Ngozi Province north of the country where they will cycle a distance of 125 km to the capital Bujumbura.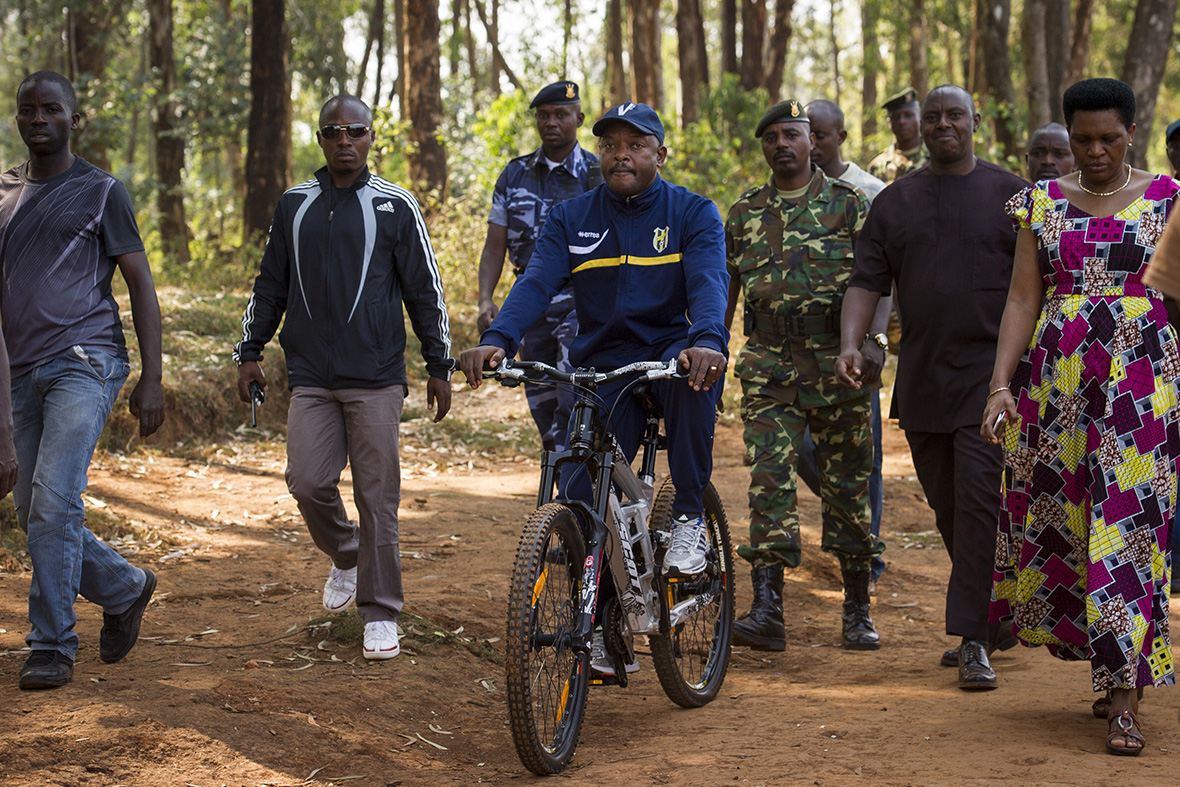 "Where there is peace, there is joy. We thank the organizers of this race for having chosen the holiday season. It is a good opportunity to celebrate Christmas with all Burundians," said President Nkurunziza.
The 527-kilometer race will last five days, where winners will be awarded in Gitega for the top five finishers in the professional and amateur categories, and to three winners in the general classification.
On the second day, cyclists will make 123km from Bujumbura-Nyanza Lac south of the country, where they will leave on December 13 for Bukirasazi in the province of Gitega in central Burundi after having traveled 125 km from Nyanza Lac.
On the 4th day on December 14 the race will make 101 km between Bukirasazi and Cankuzo east of the country.
From Cankuzo, the organizers have planned to move all cyclists and their bicycles in vehicles to the capital of Karusi Province in central Burundi where they will spend a night of rest before making the final leg between Karusi and the main town of Gitenga Province which is the final destination, a distance of 53 km.
However there were safety concerns raised by some cyclists.
"The safety was not assured because there were trucks along the road, and among us there are those who were injured, which is why third place does not satisfy me at all because I was a favorite to win this race," Ciza Obed a cyclist said.
Giraffe truncates South African film-maker's life
A South African film-maker was killed by a giraffe while filming on a reserve outside Johannesburg, the game lodge's owner has said, adding that he died after being air-lifted to hospital.
The giraffe hit Carlos Carvalho in the head at the Glen Afric Country Lodge in North West province.
"When Carlos was standing in front of the giraffe, the animal spread its legs, bent its neck and swung its head at Carlos," Richard Brooker, whose family owns the lodge said.
FOLLOW US  ON:
The giraffe, called Gerald, "did nothing wrong," Brooker said.
Callacrew, a South African film production agency, said Carvalho died on Wednesday night.
"It is with a very sad heart that we have to announce the passing of Carlos Carvalho, one of our favorite DOPs (director of photography)," it said on its Facebook page.
"Carlos was filming a feature at Glen Afric and had a fatal run in with a giraffe on set."
Carvalho, a 47-year-old father-of-two, was reported to have been looking through the camera eyepiece to take close-up images of the giraffe when the incident occurred.
TO DOWNLOAD OUR MOBILE TV APP CLICK HERE
Kenya: President Uhuru Kenyatta wins African award for infrastructure
Kenya's President Uhuru Kenyatta has been declared the winner of this year's Babacar Ndiaye's African award on transport and road infrastructure.
In a ceremony in Dakar, Senegal on Friday the Africa Road Builders said Kenyatta won the 2018 award for Jubilee's projects in railway, road, air as well as a nationwide street lighting.
Kenyatta will be presented with award on 23 May in Busan, South Korea, during the African Development Bank annual meeting.
FOLLOW US  ON:
Babacar Ndiaye was an economist and a former president of the African Development Bank. He died last year at the age of 82.
The President of Media for Infrastructure and Finance in Africa Adama Wade cited the Mombasa–Nairobi Standard Gauge Railway as major project that has had immense impact.
"The SGR has reduced costs of travelling between the two cities by half and at the same time taking half of the time for the trip," he said.
"We thank and congratulate the AfDB and its President Dr Akinwumi Adesina for putting the issue of roads and transport high on its agenda through its 'High 5 to Transform Africa' programme," said Mr Wade.
The General Commissioner of Africa Road Builders Barthélemy Kouame noted that transport networks, like blood vessels, must not be clogged.
He congratulated Kenya for the efforts to improve transport and to foster regional growth through such projects as the Lamu Port.
"We note the crucial role Kenya is playing as a commercial hub of East and Central Africa and the investment in big infrastructure projects to live up to the status," he said.
TO DOWNLOAD OUR MOBILE TV APP CLICK HERE
Astonishing: A Commercial Driver seen with a Tiger in his car (Video)
 A video has shown the moment a driver stunned a passing car after winding down his passenger's window to reveal something horrifying inside.
The clip shows the cameraman pulling up alongside the black BMW of Russian YouTube star Khizri Zapirov.
They ask what he is doing, to which he replies: "I'm taking my girlfriend for a ride."
"Is she pretty?" the fellow driver then asks.
FOLLOW US ON:
Khizri responds by winding down the rear window to reveal a fully-grown tiger.

"Look for yourself! Do you like my pussy cat?" he asks as passengers watching in the other car burst into hysterics.
The tiger stares directly at the camera, before one of the people watching shouts: "Yeah, she is interesting alright!"
More than 1.3million people have watched the clip, which was titled: "Khiza knows how to deal with pussies".
TO DOWNLOAD OUR MOBILE TV APP CLICK HERE