The Best And Worst Pets For the Kids
Getting a pet is an exciting time in any child's life, but the wrong pet can bring more problems than joy. Here's what you need to know about picking the right pet for your family.
At some point in time, many parents end up getting their children their first pet, whether it's because they've relentlessly begged you for one or you're trying to teach them a thing or two about responsibility. (Spoiler: That latter reason will backfire.)
You might think that there's not really anything to taking care of a dog, hamster, or fish, but in some cases, we can guarantee that you're seriously underestimating the amount of work it will take.
Here are the best and worst pets to get for young children—and some of the most unexpected aspects of caring for them.
Are they ready?
Before you even start considering which pet to buy, consider if your kids are ready to look after any animal at all. This will largely depend on the type of pet you want to get them, but there are other things to factor in, too.
For example, even though taking care of a goldfish seems incredibly simple to any adult, a child who's too young might have trouble with it. Are they old enough to be trusted with getting the food out of the cabinet? Do they understand the importance of feeding the fish the correct amount?
These are things you can obviously teach them when it comes to caring for any pet, but they might not stick if the child truly isn't ready yet.
A dog is the most obvious choice when it comes to getting a pet for your family—not only are they incredibly cute, but they're pets that can also be active members of your family. In general, dogs tend to be easy for kids of any age to take care of because there isn't a ton that you really have to do for them.
Putting out food and water is simple enough, they can easily be walked or let out in the yard for some fresh air, and it's not hard to clean up after them when they relieve themselves.
If you and your family have settled on a dog, older shelter dogs typically make the best pets, because they usually come potty trained and they're fairly calm. If you think a puppy sounds like a good idea, we'll pray that the universe goes easy on you.
It's important, though, to ask a few questions before you adopt, such as:
Is there a reason no one has adopted the dog yet? Does the dog have experience being around children or families? What is the dog's personality like? What is the dog's life expectancy?
Like dogs, cats tend to be one of the first options most people consider when they think of getting a pet for their families. Sometimes the choice is even easier when you consider how independent cats tend to be—you make sure their litter gets cleaned and changed, you make sure they have food and water, and there don't tend to be too many details after that.
Despite their aloofness, cats can also form intense bonds with their owners, especially children.
According to the American Society for the Prevention of Cruelty to Animals (ASPCA), cats that are well cared-for can live incredibly long lives, up to 17 years in some cases, and 13 years at minimum. A kitten will be a bit harder to care for, but they're ultimately just playful little creatures who do tend to calm down considerably as time goes on. If you have pretty small kids, they'll probably relate to a cat fairly well—just like them, cats often work playtime and naptime into their everyday schedules.
A "pocket pet" is pretty much just that—any pet that is small enough to fit in your pocket. This type of animal can include mice, rats, hamsters, ferrets, guinea pigs, and gerbils.

Unlike dogs and cats, which will typically become part of the family and be included in many different family activities, pocket pets usually have to stay in their own space and can't really be left to roam around like a cat or dog.

Caring for them also requires way more supplies than you might think—they'll need the right type of cage, the right type of food, a water dispenser, something they can exercise on, and wood chips or bedding material, which will need to be replaced fairly often.

Although they're cute, these small critters involve way more work and care than any kid can handle. Not only that, but they're also considered a sort of specialty animal when it comes to veterinary care, so it might be difficult to find a solution if something's wrong with your pet. Until your kids realize how much goes into looking after a pocket pet, they're not a good idea.
Rabbits—Not Great, Not Terrible
Rabbits are adorable, so it's not a surprise that so many kids feel drawn to them and want them as pets. They'll require a similar setup to that of any pocket pet, but they're a little bit larger and more interactive than something like a mouse or rat. Rabbits can actually be really playful and have very distinct personalities.
However, they're not just like a smaller version of a cat or dog. In fact, there's actually a lot that people don't know when it comes to owning a rabbit.
First of all, rabbits aren't really meant to be caged animals, and they require way more exercise, space, and time to roam than most people think. They're also not an animal that will be too keen on you picking it up like you would a dog or cat. Because they're a prey animal in the wild, a rabbit's instinct when being picked up is to flee.
Additionally, they also have super sensitive stomachs, and the wrong diet could be fatal. Ultimately, rabbits can make great pets, but they have to be in the right home.

Most of us probably have memories of keeping baby chicks in our elementary school classrooms, and it was definitely an exciting time. Not only was it cool to watch them hatch and begin their lives, but they're also incredibly cute and fun to hold.
8 Of The World's Weirdest Beauty Standards Ever!
In some parts of the world, cultures and languages have melted away and history is now the only thing left to illuminate what happened in the past. In some other places, the cultural significance of their traditions is yet to be on the wane.
Many existing cultures might seem interesting and captivating but some of them involve extreme body modifications, terrible beauty standards and weird rituals and traditions. The weird cultures seem so normal to those who practice them but will shock the rest of the world and are frequently viewed as strange by many.
However, it only reminds us of the cultural and traditional diversity around the world and shows how humans interact with different cultures to explain different behaviours they engage in.
Even though we might see these 8 weirdest beauty standards as insane, awkward, extreme and silly, we don't need to despise them for being a little different. After all, there are a lot of modern trends that we are yet to understand likewise.
Long Earlobes – Maasai Tribes of Kenya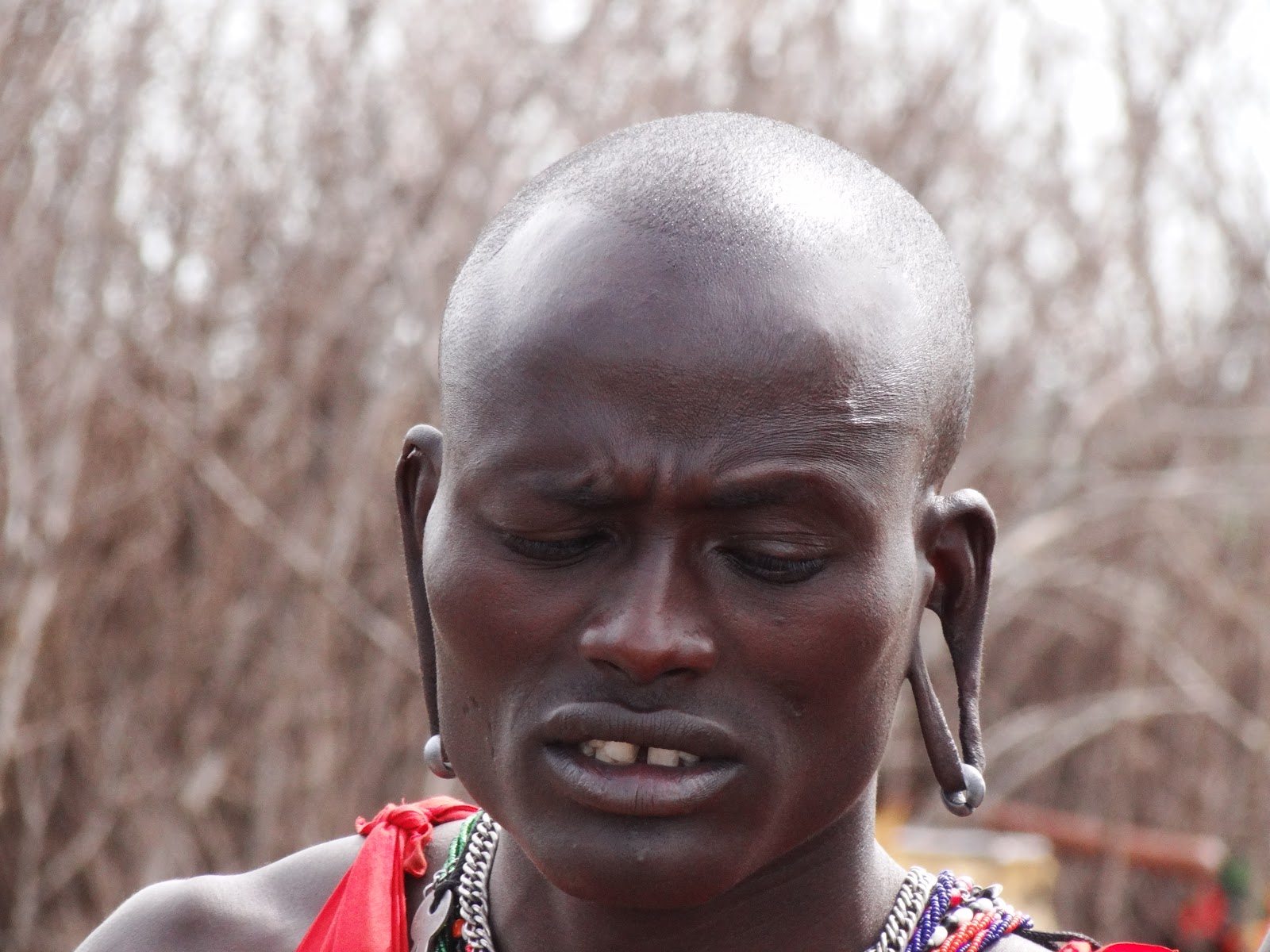 Maasai people pierce long earlobes as pictured above. Known for their long preserved culture, Maasai men, as well as women, see the need to be beautiful and regard beauty as a necessary part of their lives and this seemingly extreme body modification adds to their beauty. After piercing and stretching the earlobes which they do with different materials including thorns for piercing, bundles of twigs, stones, the cross-section of elephant tusks and empty film canisters, the women wear various forms of beaded ornaments in both the earlobes and smaller piercings at the top of the ear. The oldest tribe members have the largest earlobes. Though fewer and fewer Maasai, especially boys, now follow this custom, it is still a common practice and thus, it happens in the region till date.
Yaping Hullo Nose Plugs – The Indian Tribe Apatani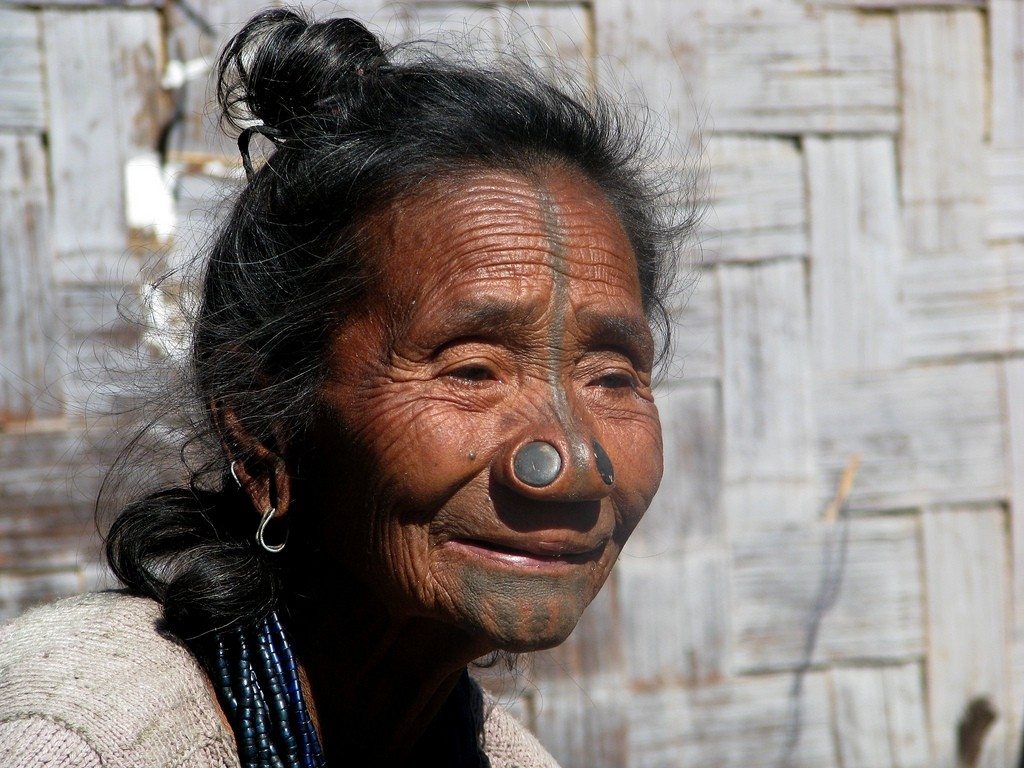 Yaping Hullo is similar to the normal piercing, just that bamboo strips are replaced to make the hole bigger. The moment this nose-hole is big enough, a cane plug is set to be inserted. Many older women still retain this strange fashion thing as a significant part of their roots, but modern women have dropped this practice. However, it is believed that women of the Apatani tribe wore the yaping hullo to appear undesirable to men from other tribes.
Yaeba Teeth (Double Tooth) – Japan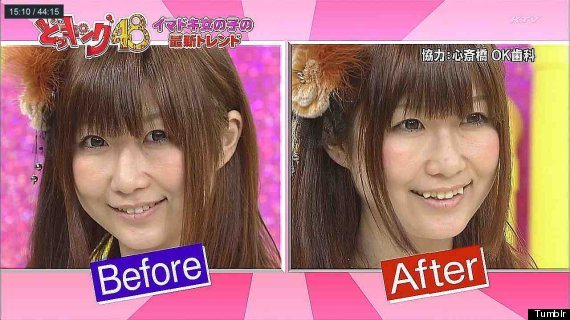 Yaeba which translates literally as the double tooth is a dental method where the upper canines are capped either permanently or temporarily to create a fanged look. Well, you don't have to be scared, it's not a severe dental deformity, and it costs between £130 – £340 for each tooth. This trend was invented by Japanese pop stars and many people in Japan think it's stunning. Plus women with crooked snaggle teeth are considered to be alluring. The whole idea is to turn an unattractive thing into something famous and beautiful.
Stretched Lips – Mursi Women of Southern Ethiopia
This is arguably the most extensive fashion trend worn for centuries in various African and South American communities. Stretching of the lips is common just among women from certain regions (mostly popular among tribal groups of Ethiopia, a tribe in Southern Ethiopia near the border with Sudan). Girls rock these accessories from their teenage years and it is, in fact, a way they mark a girl who's going to be a woman. They begin the process of stretching their lower lip when a girl turns 13 and more. Strangely, the Mursi believe that the size of a dinner plate fits the best.
It's a painful and awful practice but it evolves a girl into a woman. It is a process that starts with an initial piercing done as an incision on the lower lip of about 1 to 2 cm length, and a simple wooden peg is inserted. Following the healing of the wound, they replace one peg with a bigger one, and the stretching process begins all over again.
When the hole becomes big enough, they put the first wooden plate, and it's about 4cm across. But it is the right of the women to choose how long they wish to stretch their lips.
In a case where the plate is more than 20cm, women can opt to remove part of their lower teeth (painful). Each woman takes pride in crafting her own plate and including some ornamentation. The final diameter ranges from about 8 cm to over 20 cm.
This practice has a great significance and is part of their wedding ritual. Plus, married women put some food on their plates when serving their husbands a meal. You might find this practice, awful, awkward, and gross but something tells me these women also find the women who paint their lips just as gross as you find them.
Today, the custom is still maintained but by a few groups in Africa and Amazonia.
Kayan Long-Necks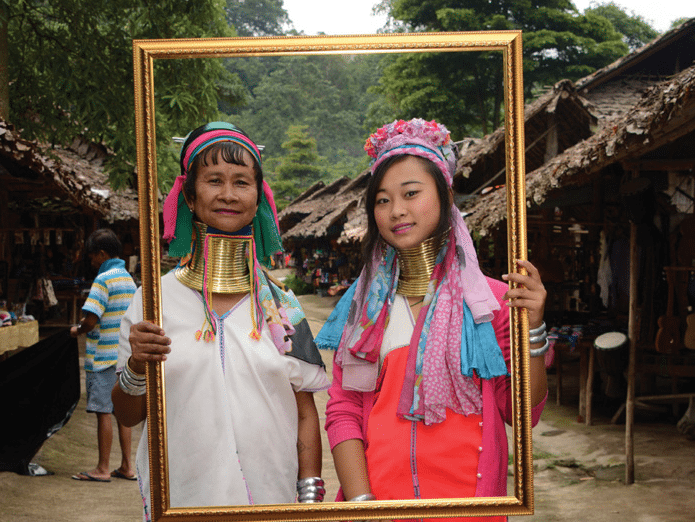 Kayans' live in northern Thailand in villages that are open to visitors. Women in the region put on these insane brass neck coils from their childhood starting from age four or five, replacing it with a longer one and adding more turns. They don't get to remove their rings even while sleeping. These rings are creating the illusion of a longer neck and women wearing these coils are known as "giraffe women" to tourists.
There are many stories surrounding the neck rings including one about a legend who says these rings protect women from a tiger's attack, another one suggests the neck rings protected women against becoming slaves by making them less attractive to other tribes, there's also one that said that the coils give the women resemblance to a dragon, which is an important figure in Kayan folklore and also one that says it's only another beauty tradition.
But in all, women with long necks seem to be more attractive in the region than the ones without neck rings. However, many of the women decline wearing or practising this tradition today.
Lotus Feet – China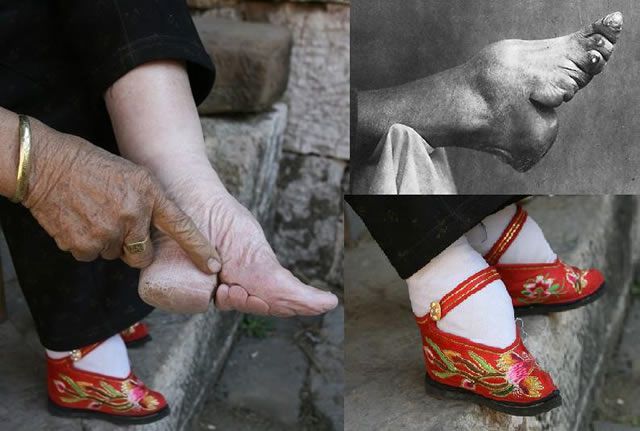 Here is another one of the weirdest beauty standards and extreme body modification practised in the world. In imperial China, people did this painful beauty procedure involving a girl's feet being bound tightly with cotton strips, wrapping them when they hit the age of five.
The wrappings were made as tightly as possible so as not to allow the feet grow. After the entire process, the feet are not able to get their regular shape, making it easier to spot women with lotus feet by the manner of their walk. Girls with lotus feet were regarded as more sexually pleasing than girls without and they had more chances of having a prestigious marriage. This crazy fashion trend was finally banned in 1912.
Face Tattoos – The Maori
While tattoos are still in vogue among the modern people, this unique culture still makes the list of weirdest beauty standards because of the way it's done.
While a smooth, clear face without tattoos is considered a fairly universal standard of beauty, Maori people think otherwise. Maori practices a strange face tattooing, traditionally called Ta Moko.
This face-inking can be done to cover the whole or part of the face. Also, the patterns and positions in which they appear vary (can be curved shapes and spiral-like patterns) depending hugely on rank, social status, power, and prestige. It's not just about getting a face tattoo which can be gotten from anywhere around the globe, the great thing about Maori tattoos is that to this day, no two tattoos are alike.
Maori tattoos are one of a kind and contain a lot of tribal messages although different people tell different stories about the Maori tattoo, including believing it has a direct link to beauty and a sense of belonging. Some say it has deeper myths than the ink on their skin, it sure draws attention to the eyes, lips and creates the illusion of beauty. Moko is about uniqueness, glamour, and beauty, it's like a tattoo masterpiece on their skin till they bid this planet their last farewell.
And they are always highly intricate as well as detailed, displaying the craftsmanship and artistry of not only the artist but of the Maori culture.
Scarification – Ethiopia's Karo Tribe
Most people around the globe often times, use their bodies to express their cultural identity, status or connection to their gods, but scarification process is terribly long, painful and seems somewhat extreme. This is in every sense, one of the weirdest beauty standards in the world.
This process consists of cutting the skin with a sharp instrument, (usually some sort of knife or cut glass) in such a way to control the shape of the scar in order to create certain patterns.The process is believed to be a form of art, like body decoration. Keep in mind that more and more designs or scars could be added throughout the year. Scarification involves opening of the flesh, application of powerful plant juices and dark pigments onto the wound, such as ground charcoal or, sometimes even, gunpowder. So when the scar heals, it is raised and dark which is called keloids. Normally, Karo women among other reasons, scar their chests to look more beautiful, and it's a part of the ancient ritual. In fact, women confess they do it basically to attract men.
While most people would classify the aforementioned cultures as some of the weirdest beauty standards that ever existed, the people who practise them treasure them with everything they have.
4 reasons not to mount your TV over your fireplace (and other helpful tips)
The practice of mounting a TV over a fireplace has somehow become extremely popular in the U.S. If you didn't do it yourself, chances are very good that you know someone who has. Who it was that thought up this idea and why they found it appealing in the first place are two mysteries that will likely follow us to our graves. But that's all in the past now. And since science has yet to crank out a functional time machine that would allow me to preemptively ground the idea before it ever took off, the best we can do at this point is try to persuade you, dear reader, from perpetuating this practice.
Please don't mistake our contempt for TVs over fireplaces as an insult to the sensibilities of those of you who have them set up that way. There is a very good chance you feel you have no other choice. And if you really like it that way? More power to you. At the end of the day, the guilty party is the person(s) who designed your home. They made the fireplace the focal point of your living/entertainment room, and then filled the rest of the joint with windows. Then they made sure power and cable was run to the location directly above your fireplace, virtually placing a big sign that says "install TV here." How unfortunate.



But hold on a moment. Is putting a TV above your fireplace really that poor an idea? Well, it depends. If you can avoid it, you should, and we explain why below. But if you must, there are a few things you will want to know, and a few tips we can offer to help make it the best possible viewing experience.
FOLLOW US ON:
Heat + electronics = bad
Electronics don't care for heat, and they care for smoke even less. Ever seen the windows inside the car of a cigarette smoker? Unless the smoking driver is an equally habitual window washer, those windows are covered with a hazy film of filth. Exposed to the smoke of burning wood, the same film can build up on the components inside the cabinet of a TV. You may not see the particulate when you have a fire, but it is there (you can smell it). If you burn wood — even with the flue open and fully functional — there will be a small amount of smoke and particulate emitted. And once that particulate builds up, so does the heat generated by the TV.
We have a wood burning stove, and the heat generated by that thing (that's what it was designed to do) is enough to melt candles placed several feet above on the mantle. For us, mounting over this area is a deathwish for the TV.
Neck headaches become a problem when you start protruding your chin forward with that "looking up" posture.
To make sure we aren't just blowing smoke (sorry), we spoke to Brian Sevigny, owner of Portland, Oregon-based A/V installation service, Digital Connex. He told us he gets asked to install TV's over fireplaces frequently. When we asked him if he encouraged or discouraged the practice, he was quick to jump in. "Discourage," Sevigny said firmly, "primarily because of the heat and the smoke."
Most electronic devices simply operate best and most reliably at lower temperatures. Beyond that, excessive heat can cause temperature-sensitive materials to degrade quickly, and conductive materials can even sprout little metal whiskers, causing shorts within the TVs circuitry.
However, if you have a more conventional wood burning fireplace — and especially if you have a gas fireplace insert — the fact is you are probably going to be just fine. That TV may die earlier than it had to, but you will probably replace that TV before it dies anyway.
It's a pain in the neck
This is an issue we experienced many times ourselves as a guest at friends' houses and various vacation rentals. We've also heard complaints from many others. Still, we are informed that, for some of you, neck pain from watching an elevated TV has never been a problem. If you are in the latter camp, please feel free to move right along, and congratulations on your superior spinal support. For the rest of you, please read on.
Placing a TV above a fireplace moves the image you're trying to watch well above eye level. Think back to the last time you went to the movie theater and had to sit in one of the front three rows. Chances are you walked out of the theater with a stiff neck. Craning your neck into an unnatural position for an extended period of time is going to cause temporary discomfort, but doing so for even short periods of time, day after day, can have lasting effects, like chronic headaches.
We spoke to Brad Simpson, a physical therapist and Clinical Director at Life's Work Physical Therapy. Simpson's clinic treats patients with multiple types of musculoskeletal problems and is an expert in ergonomics; he says that repeatedly sitting in an unnatural position will have lasting repercussions.
"It ends up putting your body in a position where your deep-neck stabilizers, muscle-wise — it's kind of like the core of your lower back, but up in your neck — aren't able to function. That position where you're having to push your head forward and up in order to look up at the television compromises those muscles," Simpson said. "Having your head forward like that causes a shearing force within your mid-cervical spine. That's where a lot of pain ends up coming from … you lose the ability for your neck to stabilize."

And muscle pain isn't the only thing you can suffer from … headaches are a huge problem in our population, and neck headaches become a problem as well when you start protruding your chin forward with that 'looking up' posture," Simpson said. He also indicated this poor posture leads to improper breathing, which causes us to overuse certain muscles which become yet another source of pain. The main takeaway from our interview: It's not worth the pain.
Six degrees of separation from a beautiful picture
On this issue, there is no debate. We review multitudes of TVs every year, and the viewing angle on LED/LCD TVs remains a big problem, even among top-tier TVs.
An LCD screen (which is what you find on "LED" TVs) is essentially made up of a bunch of tiny, shuttered windows. These windows open and close in order to let the TV's backlight through, thus creating an image. The problem with these windows is that they have a very limited viewing angle. If you move too far left, right, up, or down you start seeing a fraction of the produced light. The result is a washed out, lifeless picture — hardly what you had in mind when you laid out hard-earned cash for a new TV.
The result is a washed out, lifeless picture — hardly what you had in mind when you laid out hard-earned cash for a new TV.
The good news here is that you do have some options to mitigate this problem. The first is to buy a tilting wall mount with enough down angle to give you a more direct view of the screen. There are even mounts that will drop the TV down closer to your eye level (make sure not to have the fireplace going, though). Either option will improve both color saturation and contrast.
The second option is to purchase an OLED TV, which has a nearly infinite viewing angle and will look amazing no matter how high you place the TV. There are plenty of other reasons why OLED wins in an OLED vs. LED TV battle. If an OLED TV isn't an option for you, considering an LED TV that uses an IPS LCD panel.
It's just not cute
To be totally frank, we have the design-sense of a color-blind hippopotamus (no offense intended to hippopotamuses, but they do spend a lot of time in the mud — just saying). Having accepted our utter lack of skills in the decor department long ago, we reached out to Garrison Hullinger, owner of Garrison Hullinger Interior Design, and asked him if he had a TV mounted over his fireplace. "No, I live in a 100-plus-year-old home and would never put a TV in my formal living room over the fireplace," Hullinger told me. "We also have a beach house with a fireplace in the formal living room, and choose not to hang a TV in that room."

Again, though, most modern homes have rooms built around this idea. Hullinger told us about 25 percent of the homes he has walked into had one location that was wired and ready for a TV over the fireplace. Sevigny echoed that estimation when he told us that almost all of the new construction he has seen "will have electrical and coax connections already installed above the fireplace."
In the end, this is pure opinion, but one that is shared by many others. Take it as you will.
But I have to (or want to) anyway. What can I do to make the best of it?
In an ideal world — and, granted, we tend to be TV snobs so our viewpoint is slanted — you would place your TV in another room purpose built for enjoying TV, and maybe make music the focus of your main living area. However, most homes just aren't designed that way, and your priorities are likely vastly different than my own. If you like the idea and look of mounting your TV over your fireplace, or if you simply have no other choice, here are a few suggestions to make the best of it.
Sit further back if you can — As you move away from the TV's location, the severity of the angle to which you must crane your neck is reduced.

Lounge it out! — Kick back and relax when you watch TV. You will eliminate the need to crane your neck entirely.

Use a tilting or motorized wall mount — Altering the TVs angle to get a more direct view of the TV will improve picture quality.

Purchase an OLED TV — In addition to providing an outstanding picture and a super-thin profile, OLED TVs have no viewing-angle problems.

Don't have a fire and watch TV at the same time — The flicker of the fire and added brightness in a darkened room can play with your pupils. and strain your eyes while watching. It's also a bit of a distraction. If the two are close together, perhaps enjoy just one or the other at a time.

Hire a professional installer — Not only will a professional be able to handle cable management for a clean install, they come armed with other helpful suggestions to make the most of your TV installation.
TO DOWNLOAD OUR MOBILE NEWS APP CLICK HERE