Zambian Player Loses Daughter While Playing Against Nigeria
Augustine Mulenga, a Zambian player who played against Nigeria in a crucial World Cup qualifier last Saturday has lost his daughter, according to The Zambian Observer.
It's said that Chipolopolo officials knew that Mulenga's daughter was dead but did not inform the winger.
He was the player who scored in the 22nd minute of the game but his goal was ruled offside.
Both countries had clashed on Saturday at Godswill Akpabio International Stadium in a 2018 World Cup qualifying match in Akwa Ibom State on Saturday.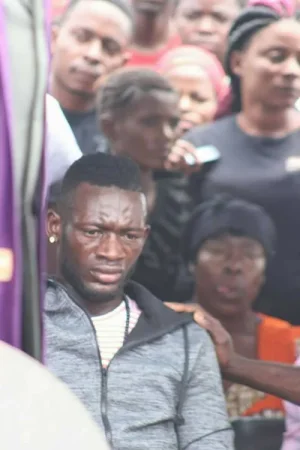 Giraffe truncates South African film-maker's life
A South African film-maker was killed by a giraffe while filming on a reserve outside Johannesburg, the game lodge's owner has said, adding that he died after being air-lifted to hospital.
The giraffe hit Carlos Carvalho in the head at the Glen Afric Country Lodge in North West province.
"When Carlos was standing in front of the giraffe, the animal spread its legs, bent its neck and swung its head at Carlos," Richard Brooker, whose family owns the lodge said.
FOLLOW US  ON:
The giraffe, called Gerald, "did nothing wrong," Brooker said.
Callacrew, a South African film production agency, said Carvalho died on Wednesday night.
"It is with a very sad heart that we have to announce the passing of Carlos Carvalho, one of our favorite DOPs (director of photography)," it said on its Facebook page.
"Carlos was filming a feature at Glen Afric and had a fatal run in with a giraffe on set."
Carvalho, a 47-year-old father-of-two, was reported to have been looking through the camera eyepiece to take close-up images of the giraffe when the incident occurred.
TO DOWNLOAD OUR MOBILE TV APP CLICK HERE
Kenya: President Uhuru Kenyatta wins African award for infrastructure
Kenya's President Uhuru Kenyatta has been declared the winner of this year's Babacar Ndiaye's African award on transport and road infrastructure.
In a ceremony in Dakar, Senegal on Friday the Africa Road Builders said Kenyatta won the 2018 award for Jubilee's projects in railway, road, air as well as a nationwide street lighting.
Kenyatta will be presented with award on 23 May in Busan, South Korea, during the African Development Bank annual meeting.
FOLLOW US  ON:
Babacar Ndiaye was an economist and a former president of the African Development Bank. He died last year at the age of 82.
The President of Media for Infrastructure and Finance in Africa Adama Wade cited the Mombasa–Nairobi Standard Gauge Railway as major project that has had immense impact.
"The SGR has reduced costs of travelling between the two cities by half and at the same time taking half of the time for the trip," he said.
"We thank and congratulate the AfDB and its President Dr Akinwumi Adesina for putting the issue of roads and transport high on its agenda through its 'High 5 to Transform Africa' programme," said Mr Wade.
The General Commissioner of Africa Road Builders Barthélemy Kouame noted that transport networks, like blood vessels, must not be clogged.
He congratulated Kenya for the efforts to improve transport and to foster regional growth through such projects as the Lamu Port.
"We note the crucial role Kenya is playing as a commercial hub of East and Central Africa and the investment in big infrastructure projects to live up to the status," he said.
TO DOWNLOAD OUR MOBILE TV APP CLICK HERE