as gotten from The Guardian UK
Floyd Mayweather announces his retirement

Floyd Mayweather wins by TKO!

Round nine

Round eight

Round seven6

Round six

Round five
 06:26
You can read the full report from tonight's fight here:
 06:02
Conor speaks: "I thought it was close … I get a little floppy when I get tired … [Floyd] was a lot more composed. You've got to give it to him … I don't know if I will box again"
Floyd Mayweather announces his retirement
Floyd: "I chose the right dance partner for my last dance … this was my final fight"
 05:58
Floyd – now 50-0 in his career – speaks after the fight: "[Conor]'s a tough competitor – we gave the fans what they wanted to see
"He's a lot better than I thought he was … he used different angles. But I was the better man … It was our gameplan to take our time and take him out down the stretch."
 05:54
The two men embrace in the ring. There's clearly respect from Floyd – and no wonder, the rookie lasted 10 rounds with one of the great fighters. Conor lacked two things as the fight went on – his punches lacked bite and he just didn't have the legs to last through a 12-round fight.
Updated 
 05:52
Floyd Mayweather wins by TKO!
I think Conor needs a KO now to win – but as he tires he's losing any kind of power in his punches. It's his lack of experience at a fight going this long that's really hurting him. And Floyd comes forward – he's rocked by a big right. The Irishman doesn't go down though and continues. But his legs have gone and Floyd goes in for the kill – and the ref stops it.
 05:49
Round nine
Conor has never fought for so long in a single professional fight. Maybe he knows he needs to go for the knockout because he charges out for the start of the round. He appears to have got in a big body blow but he's warned for a low blow. As the fighters are separated, Conor puts in a late blow. With around 90 seconds to go, Conor check the clock and Floyd gathers hmself and comes in for the kill. He's picking the Irishman off at will now and Conor tries to go into the clinch. The rookie's hands are dropping. This could be over soon.
Guardian's unofficial score: Mayweather 10-9 McGregor (Mayweather 87-84 McGregor)
 05:45
Round eight
A lovely sidestep from Conor to avoid Mayweather's blow – he looks light on his feet still but it's his arms that appear tired: he's just not hurting Floyd. That said, the Irishman gets a few blows in before Floyd counters. He ends the round an uppercut before Conor follows a right to the body with a head shot. Floyd's round … just.
Guardian's unofficial score: Mayweather 10-9 McGregor (Mayweather 77-75 McGregor)
 05:41
Round seven
And we're into the second half of the fight. Conor hasn't KO'd his opponent like he said he would – but this is more impressive than a victory through a wild punch. Remember that MMA fights don't last as long as 12-round boxing contests so endurance could tell. Then again, Floyd is 40…
Conor turns Floyd again – a lot of shoving from the Irishman and he looks tired. Floyd catches him with a few more – and Conor's punches look a little slow and sluggish.
Guardian's unofficial score: Mayweather 10-9 McGregor (Mayweather 67-66 McGregor)
 05:37
Round six
Whatever happens now, Conor has won respect. Floyd turns his back on McGregor and he gets rocked. The veteran looks far less calm than the rookie. But Mayweather comes forward and catches McGregor with some good blows and the Irishman's hands drop. Conor sticks his tongue out and chuckles – he's having fun. $100m worth of fun. It's even on my scorecard going into the seventh.
Guardian's unofficial score: Mayweather 10-9 McGregor (Mayweather 57-57 McGregor)
 05:33
Round five
Floyd is out of his corner first to start the fifth – not bad for a 40-year-old. Conor is proving an awkward opponent for Floyd – coming in at odd angles and using his weight advantage in clinches. If this goes deep and Conor is still ahead Floyd could be in trouble – he is not a knockout puncher these days by any means. A good left from Mayweather with 30 seconds left of the round.
Guardian's unofficial score: Mayweather 10-9 McGregor (Mayweather 47-48 McGregor)
 05:29
Round four
Conor peppers Floyd with some body shots – one is a little south of the torso in the forbidden place and Floyd lets the ref know. On two minutes, Conor lands a big left but Mayweather counters and catches his opponent a few times. Floyd is coming forward more now and pushing the pace a little. Conor's punches are starting to look more tired – they're almost pushed. Conor still leads overall on my card though.
Guardian's unofficial score: Mayweather 10-9 McGregor (Mayweather 37-39 McGregor)
 05:26
Round three
McGregor throws another hammer punch at the back of Mayweather's head and is warned again – fine in MMA, not so much in boxing. He needs to be careful or he'll be penalised. Conor looks a lot bigger than his opponent and is leaning on Floyd, tiring him out. Floyd is smiling but Conor is working his jab well and catches Floyd with a few. A better round for Floyd but – and I'm shocked to say this – the Irishman has won all three rounds so far by my count.
Guardian's unofficial score: Mayweather 9-10 McGregor (Mayweather 27-30 McGregor)
 05:21
Round two
Conor said he would KO his opponent early. Let's see what he can do. He gets a little excited and aims some punches at the back of Mayweather's head – the ref warns him. Mayweather then lands a right hand. But Conor switches stance to land a flurry of blows. Conor looks … can I say comfortable? His punches are a little crude but they are landing. Floyd has thrown very few punches so far.
Guardian's unofficial score: Mayweather 9-10 McGregor (Mayweather 18-20 McGregor)
 05:17
Round one
Conor said he would attack and he's true to his word. He gets in a few body blows but Mayweather absorbs them. He's known for figuring his opponents out early and letting them attack. Irish "Oles!" ring around the arena. Floyd goes for a bigg-ish straight that Conor dodges – and the Irishman then stands with his arms behind his back. Excellent showboating. McGregor hasn't looked out of his depth – but it's still early. I have to give that round to the Irishman – he was more aggressive. He landed one good uppercut counter.
Guardian's unofficial score: Mayweather 9-10 McGregor (Mayweather 9-10 McGregor)
 05:13
Floyd announced next with that 49-0 record. Plenty of boos – boos that he thrives on. Only Darth Vader enjoys his villainy more and [SPOILER ALERT] he died in Return of the Jedi.
 05:11
Conor is announced first. They can't give his boxing record as he doesn't have one. But he's 21-3 in MMA for what it's worth. Conor has really perfected the stare down the camera. I am mildly intimidated and I'm in the safety of my seat.
 05:10
Just a recap: we'll have 12 rounds tonight.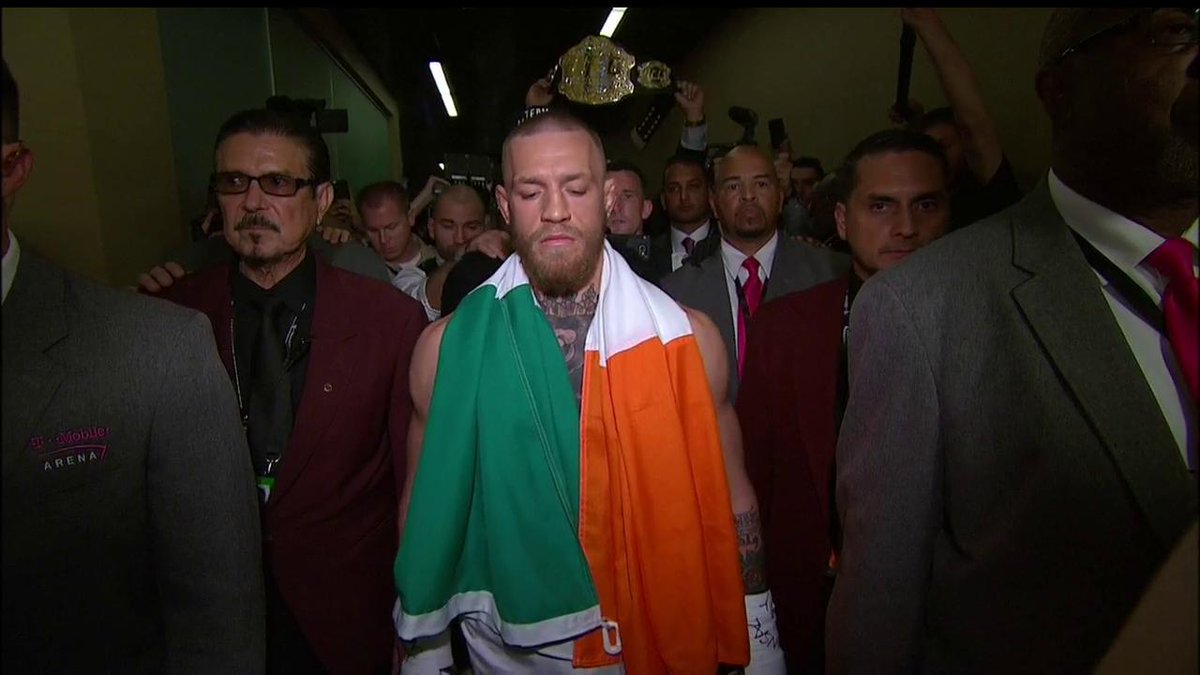 05:08
And here comes Floyd … in a mask. I assume it's Floyd anyway, the mask doesn't help. Cheers from the crowd – but plenty of boos too. Not that Floyd minds – he is well used to playing the villain and has made plenty of money out of it.
 05:06
Conor is making his way to the ring. He stares down the camera and then raises his fists as he enters the arena. A big roar from the crowd (or the Irish part of it anyway). He allows himself a little smile once he's in the ring – if he's nervous he's doing a good job of disguising it.
 05:01
Tale of the tape
We're not far off now. The anthems are being played. While we wait here's how the two men measure up. You will note that Conor McGregor has never lost a boxing fight:
Mayweather v McGregor
40 Age 29
49 Fights 0
49 Wins 0
26 KOs 0
0 Draws 0
0 Losses 0
5ft 8in Height 5ft 9in
149.5lbs Weight 153lbs
 04:57
Ed emails in: "Fantasy fights I'd pay big money to see: Trump vs Putin. What would be yours, Tom?" I would pay to see me v Mayweather – as long as I was paid $30m.
 04:56
Just a reminder that the fighters will compete in lighter than usual 8oz gloves. That could theoretically help McGregor, whose victory hopes are pinned on a knockout.
Updated 
 04:53
Looks like the delay won't last too long: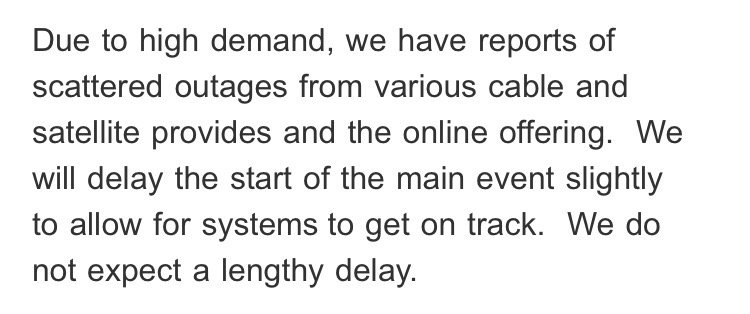 04:52
Shots of Floyd in the locker rooms as Conor and Floyd make their final preparations. Conor is stripped to the waist and has his hands wrapped. Floyd a little behind, getting his hands wrapped and still in his tracksuit. The cheers are louder in the arena for Conor, not surprising given the huge Irish contingent who have travelled to Vegas for the fight.
 04:50
As is customary in any event when nothing is happening on the internet, we will resort to pictures of famous people: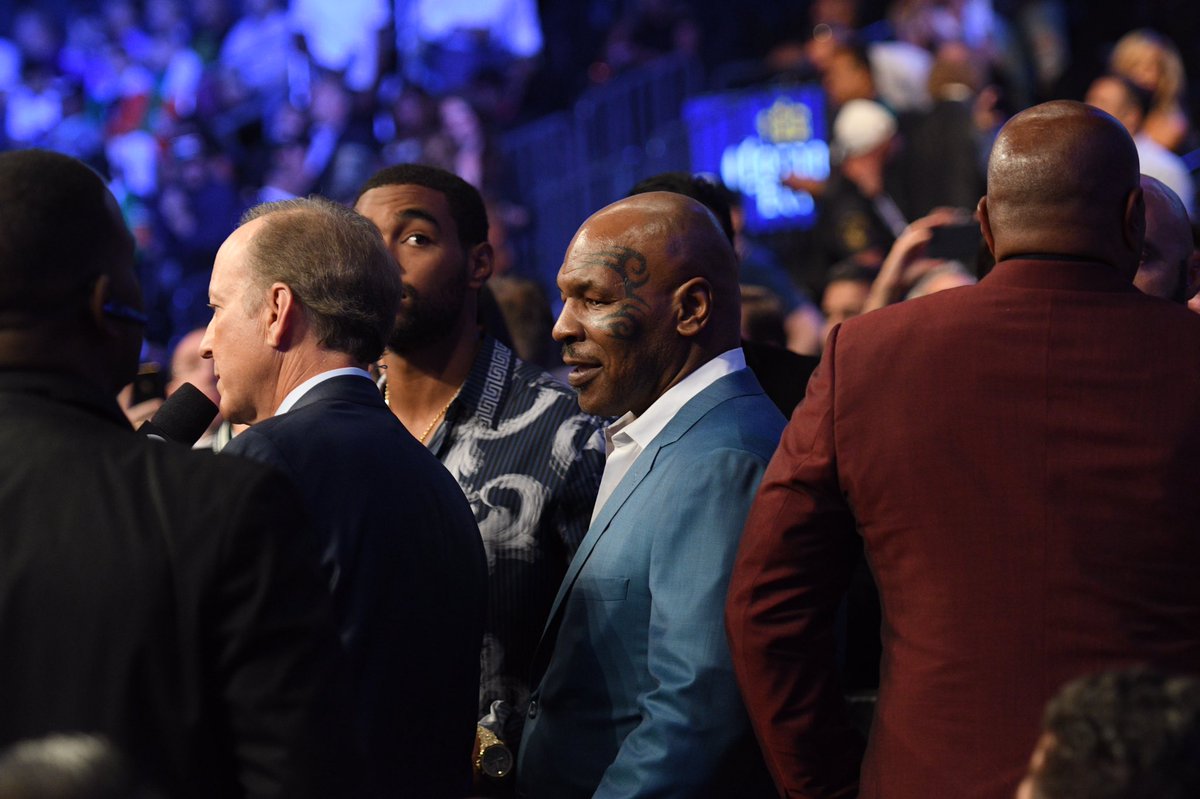 04:48
And now we await the main event, which is likely to be delayed due to issues with the pay-per-view system.
 04:38
Davis wins by KO – Mayweather-McGregor next up
Davis appears to have won after Fonseca was counted out but it looks like he believes he was hit on the back of his head. The decision stands but replays suggest Davis illegally hit Fonseca received an illegal punch when he went down. Because Davis failed to make weight, the title is vacant – but he;s expected to move up weight class anyway.
Updated 
 04:31
Apparently there are issues with the pay per view ordering system – the same problem happened for Mayweather-Pacquiao – so the start of the main event may well be delayed.
Updated 
 04:25
Here's Paul Dixon: "That clip of McGregor affectedly sipping his water should be fooling no-one. He looks about as calm as Walter Sobchak":